32 Funny Birthday Cards For Men That Will Actually Make Them Laugh Out Loud
Posted by Nathaniel Treichler on
Sometimes it can be hard to find the right birthday card for someone and you'll find yourself walking up and down the aisle looking for the perfect one. We've put together this list to save you some time by compiling our top 32 choices ranging from meme-related, making fun of old age and, of course, the naughty. Whether it be for your boyfriend, husband, or just a friend, we're sure these picks will put a smile on his face.
Everyone loves a good joke that relates to movies and memes so why not give a birthday card that does the same? These eight cards are prime examples of popular media that can make for humorous birthday cards. 

1. Almost everyone knows the cult classic "Friday", or have at least seen this meme which has made its way across so many platforms. Regardless of how old the recipient is, it is sure to garner a chuckle or two. 
Purchase from Sleazy Greetings for $4.99.


2. If your significant other was one of the many that got sucked into the exotic world of "Tiger King" during lockdown, then this is the perfect card for him. There's not a soul in the world that likes Carole Baskin.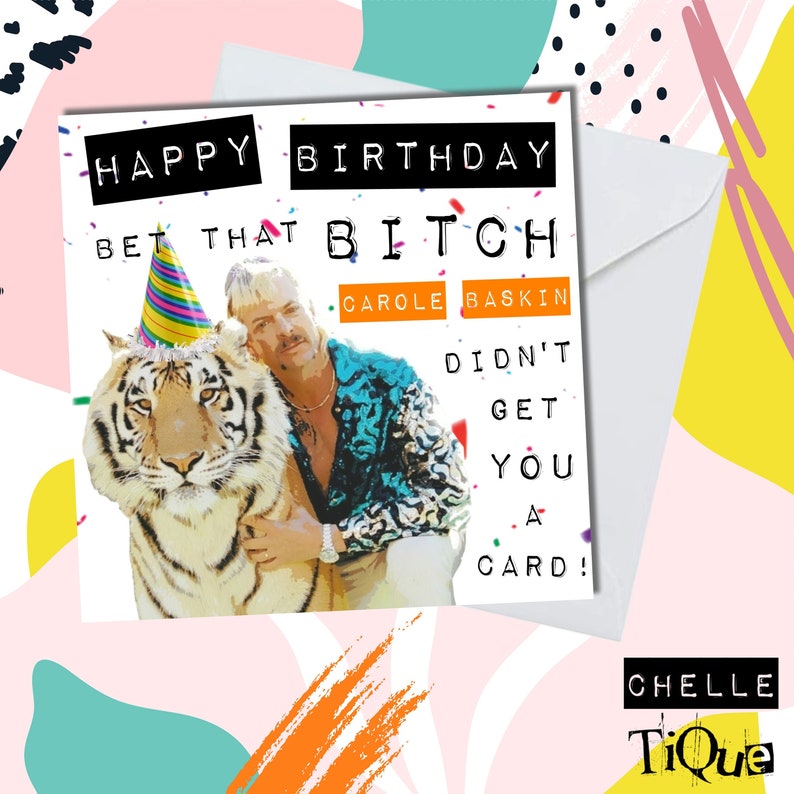 Purchase from Etsy for $2.20.


3. Gordon Ramsay ranks #1 in insults and this card does the same. Just because it is your husband's or boyfriend's birthday doesn't mean you can't make him feel like an idiot sandwich while simultaneously adding a touch of humor. 
Purchase from Amazon for $3.50. 


4. Everyone loves a good "The Office" reference (I hope) and this is one of Michael's most retweeted scenes. Also a pretty good representation of how many people feel about getting older… my recommendation? Give it to them on their 30th birthday. 
Purchase from Sleazy Greetings for $4.99. 


5. Vine seems like a lifetime ago but this video has lived on in infamy. This birthday card is the perfect balance of nostalgia and getting your feelings across in a non-traditional way. Nothing says "Happy Birthday" like a shirtless man playing one bad chord on a guitar and confessing his love.  
Purchase from Sleazy Greetings for $4.99. 


6. There are two things "Game of Thrones" is known for. One, nudity. Two, killing off your favorite characters. If he is a fan of the show he will surely take this as a compliment.
Purchase from Oliver Bonas for $4.50


7. Dwight Shrute's awkwardness and matter-of-fact persona makes for instant comedy. Make your boyfriend, husband or friend laugh with this birthday card while also making him consider his life and every birthday he ever celebrated. (You can even choose to bring up that they're almost a year older because we technically celebrate our 1st birthday at 21 months)
Purchase from Amazon for $6.80. 
8. Another cult classic, "Dazed and Confused" has given us this twist on a  funny birthday card. Not only because it is a great movie but because of the inevitable truth that our boyfriends or husbands can turn 50 but we will stay at 35 for at least 10 years. Alright, Alright, Alriiiiight.
Purchase from The Original Underground for $3.99.
Now, moving past movies and memes, here are some great options for funny birthday cards directed specifically at boyfriends and husbands.  


9. If you love your partner but they drive you crazy then this is the perfect card for you. A good balance of humor and honesty are the most important ingredients of a healthy relationship. Wish him a happy birthday while also letting him know how you truly feel!
Purchase from Sleazy Greetings for $4.99.
10. Every woman knows this struggle, and if you don't, consider yourself lucky. Nothing is worse than that 3 a.m. bathroom trip to discover an empty roll and you sit there contemplating your relationship. Your husband or boyfriend will laugh at your pain but appreciate that through it all, you persevere. 
Purchase from Sleazy Greetings for $4.99.
If you're in a relationship where you're both comfortable at poking fun at your old age, then these next five choices are the ones for you. Some are a little darker than others, but all are funny nonetheless.  
11. Everyone is aware that one year older means one year closer to death. The inside of this card says "Happy Birthday. Enjoy what time you have left". A little bit of dark humor, but at least that time will be spent with the person you love!
Purchase from Sleazy Greetings for $4.99.
12. This joke is basically self-explanatory but if he doesn't get it I would check the milk in your fridge. 
Purchase from Sleazy Greetings for $4.99. 
13. The hard truth of getting old but still a piece of comedic gold.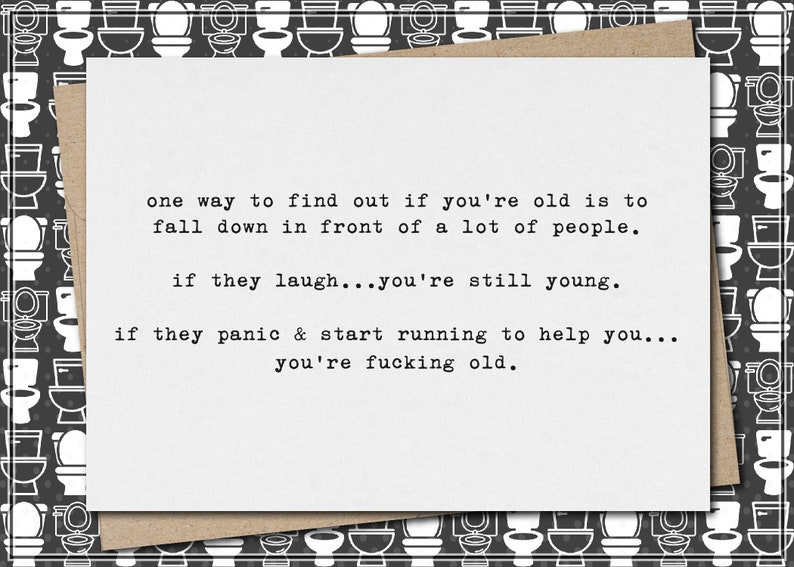 Purchase from Etsy for $4.80.
14. If you want to make fun of their old age but in a cute way then this would be the perfect card. Plus, your significant other will be too busy laughing to be mad. 
Purchase from Amazon for $6.99. 
15. We've made it to the last choice of old age jokes, however this one is universal. One minute you're excited to go out clubbing and the next you're excited about your new cleaning or office supplies. It's okay, you don't have to be in denial. That new 3-in-1 blender that makes smoothies, soups and salsa is really cool, I promise.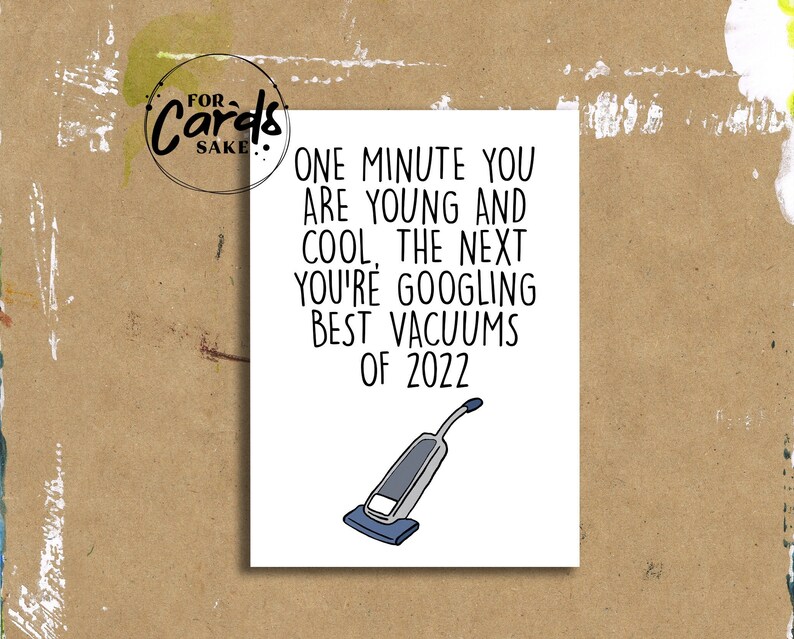 Purchase from Etsy for $4.71. 
Okay kids, it's time for you to play with your toys because it's mommy and daddy time. Here are our top four picks for funny birthday cards (but dirty) to get for your boyfriend or husband.
16. Make them work for it by scratching all the hearts and figuring out what they won. It's like scratch-offs, but instead of a money prize they win an under the sheets prize. Make your significant other feel like a kid on Christmas.
Purchase from Amazon for $5.95.
17. Everyone loves a good Valentine's Day poem, but this birthday card leaves a surprise ending.
Purchase from Sleazy Greetings for $4.99. 
18. Probably one of the more crude choices on this list but funny nonetheless. Make sure you keep his mind on the second part rather than having him stew on how he came into this world. 
Purchase from Amazon for $6.99. 
19. The final choice is the most tame. This is for those who want to send a dirty birthday card to their significant other in a dirty but cute way. Plus, an "affection erection" just has a nice ring to it.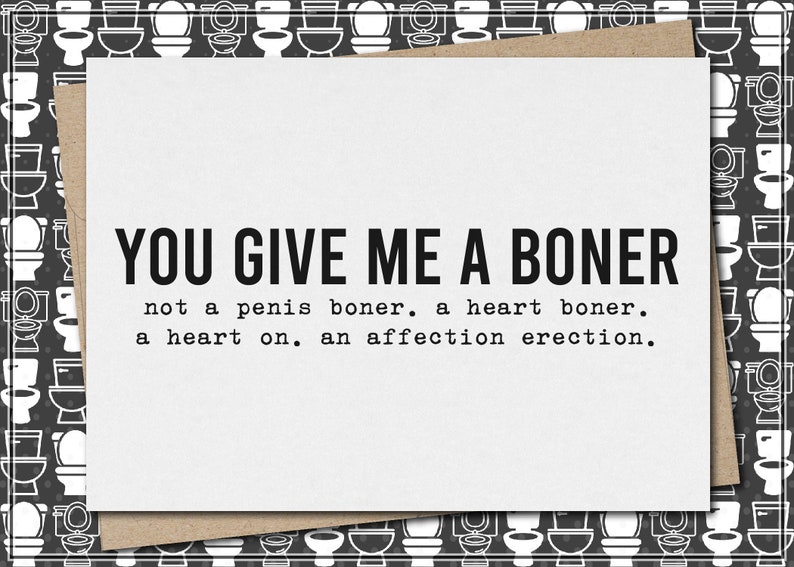 Purchase from Etsy for $4.80. 
Does your significant other partake in the "God's-given Garden"? The "Devil's Lettuce"?  The Cheech and Chong diet? Well then, these next three choices would be right for you. 
20. Everyone knows Snoop Dogg and how much he loves his Mary J. This has the perfect combination comedy and weed references that a stoner of any age would love to recieve. 
Purchase from Sleazy Greetings for $4.99. 
21. A great play on words, this funny birthday card will have anyone laughing. Both stoners and plant lovers alike.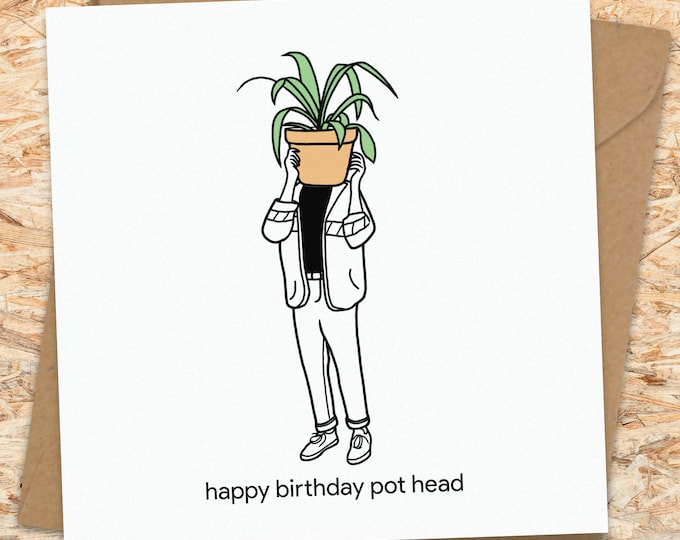 Purchase from Etsy for $4.38.
22. Perhaps your significant other was around during the times of Woodstock, in which case I'm jealous, I'm sure he would get a kick out of this card. Referencing not only his old age but also his probable love for the giggly smoke.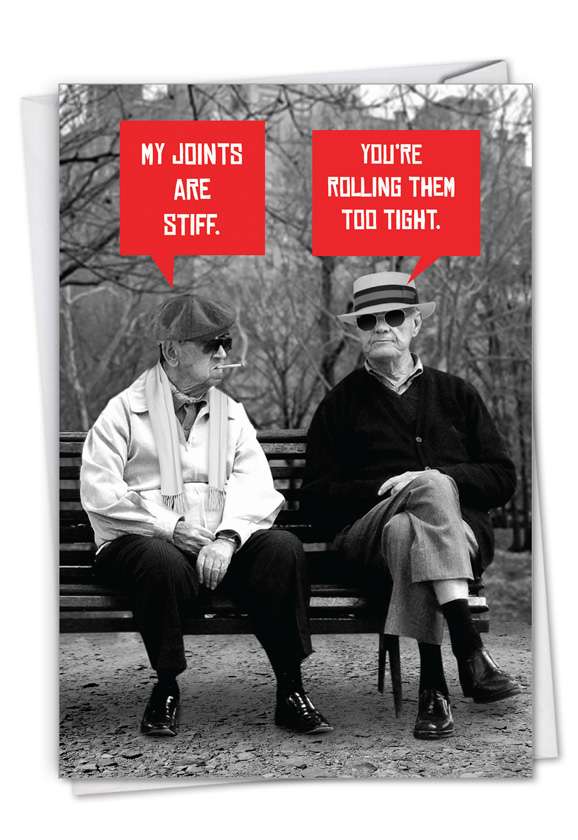 Purchase from Noble Works for $4.95. 
We've covered pot smokers, dirty birthday cards, memes and movies and now we're moving into another form of funny birthday cards for men. You guessed it, the gamers. 
23. For any woman that has lived with a gamer, we have heard the screams from the other room blaming poor internet connection and subsequent lag for their inevitable death. Make fun of their rage quit with this card while also wishing them a Happy Birthday.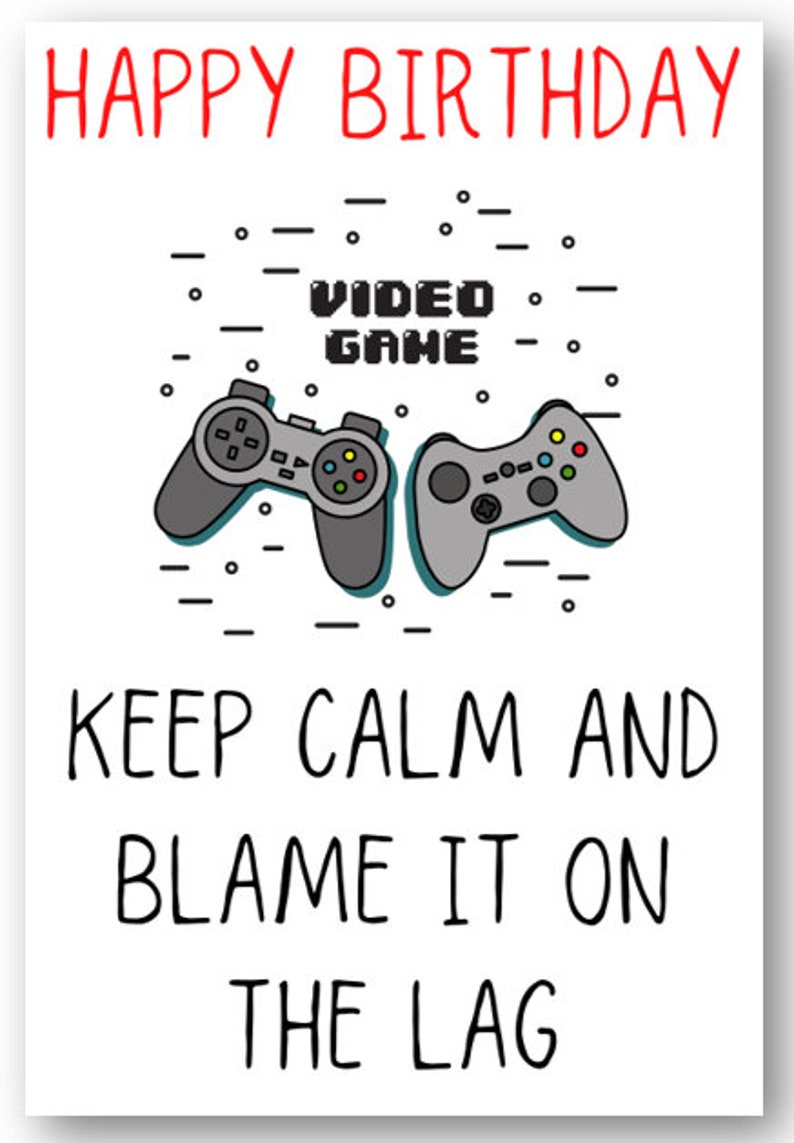 Purchase from Etsy for $4.38. 
24. Another turmoil that many women face when living with a gamer, is his love for his console. If your boyfriend or husband have a relationship with their PlayStation, then this is the perfect birthday card for them.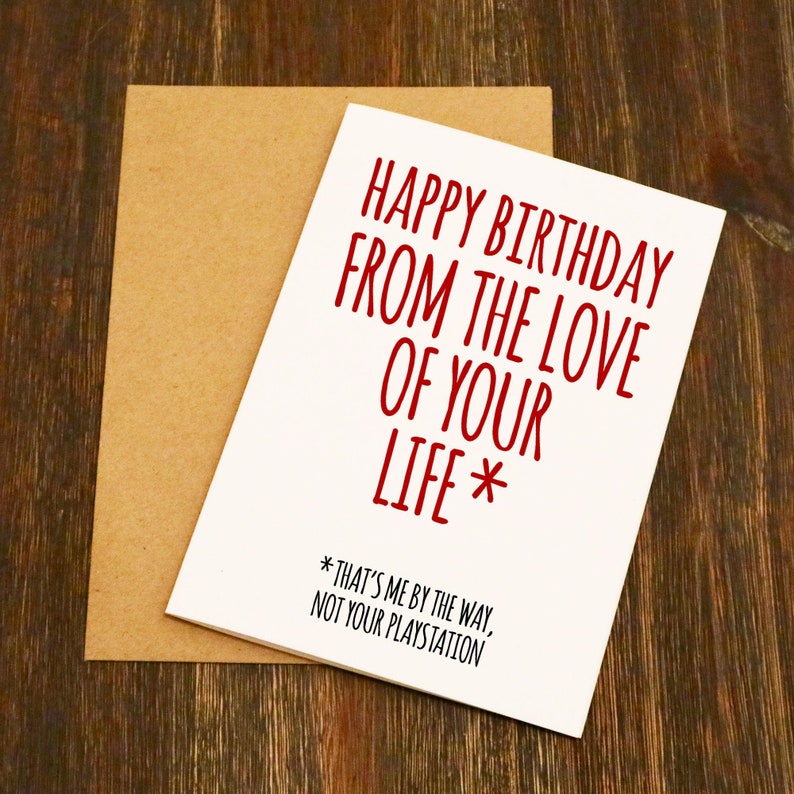 Purchase from Etsy for $4.08. 
25. If your significant other is a gamer then he is surely well-versed in Zelda. Rather than being a typical card that says "No matter how many hearts I have, I'd give them all to you", this Zelda pun is sure to gain you another.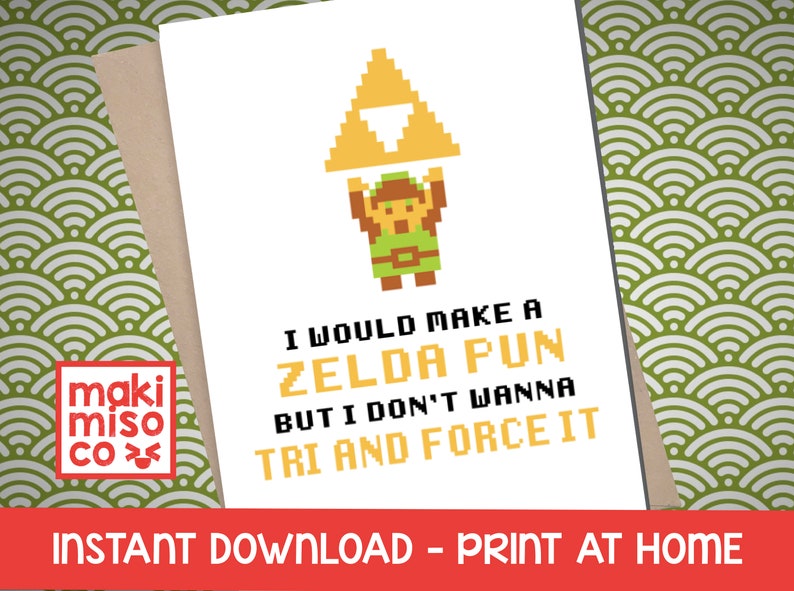 Purchase from Etsy for $3.57. 
Now we're moving into cards that have to deal with current times. If your significant other keeps up with what is popular online then these funny birthday cards are sure to land. 
26. The trial that the whole country watched for comedy. Judge Judy had nothing on these interactions.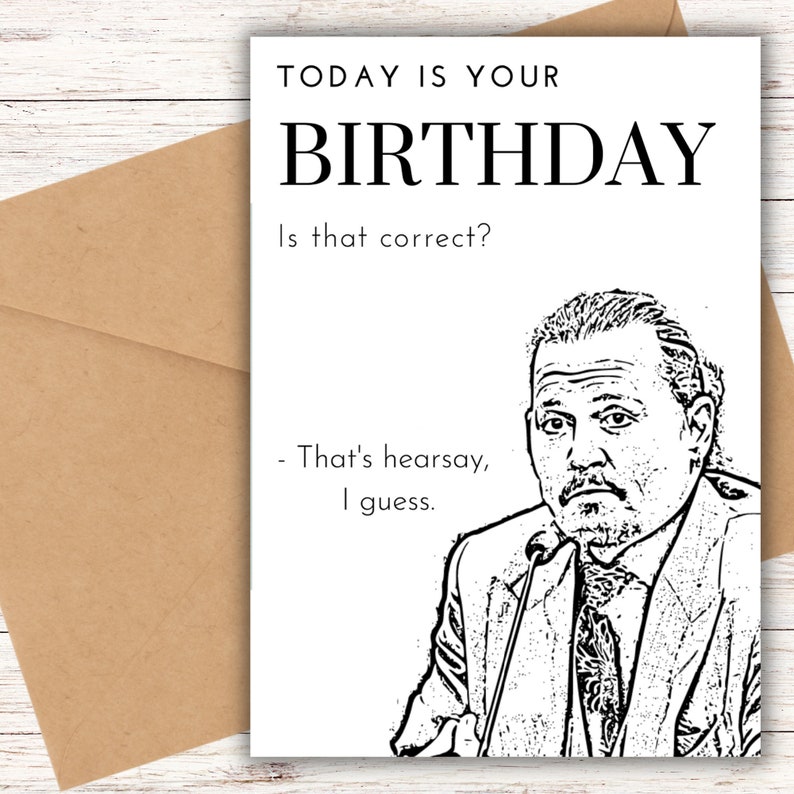 Purchase from Etsy for $2.60. 
27. Who doesn't want to get Rick-Rolled on their birthday? It seems like this will never go out of style. 
Purchase from Amazon for $9.89. 
28. Probably one of the most shared audios on Tik-Tok at the moment and also good if you don't have any money to put in the card.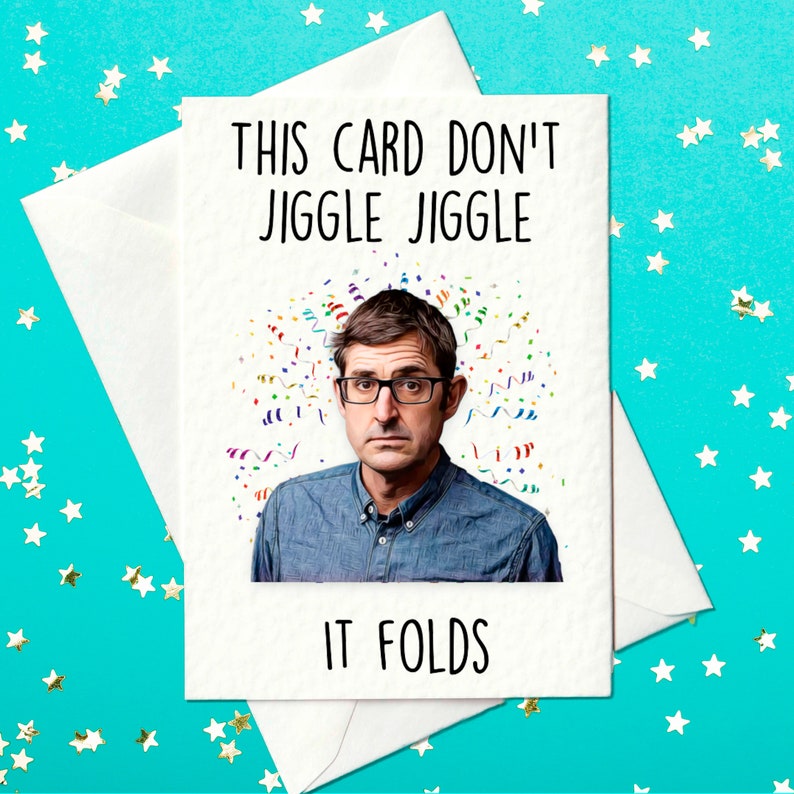 Purchase from Etsy for $4.07. 
29. No matter what your political standing is, your boyfriend, husband or guy friend will still find this to be a funny birthday card. Nobody can read this card without hearing Donald Trump's voice. 
Purchase from Sleazy Greetings for $4.99. 
We have saved the best for last, mostly because it's dark humor and if you lasted this long we're sure you'll make it. So these are the top (and last) three choices in the category of "It's so messed up, it's funny". 
30. Poor Stevie Wonder but at least he's smiling. Perfect for those that live far away in long-distance relationships who also have a dark sense of humor. 
Purchase from Etsy for $5.50. 
31. For those couples that have a shared fascination with serial killers, this card is meant for you! The website provides cards for each month depicting which serial killers were born in each one. Who knows, maybe you share a birthday with the Night Stalker. 
Purchase from Always Fits for $5.95. 
32. Finally, our final card and the dark humor finale. It needs no introduction or conclusion, except Happy Birthday.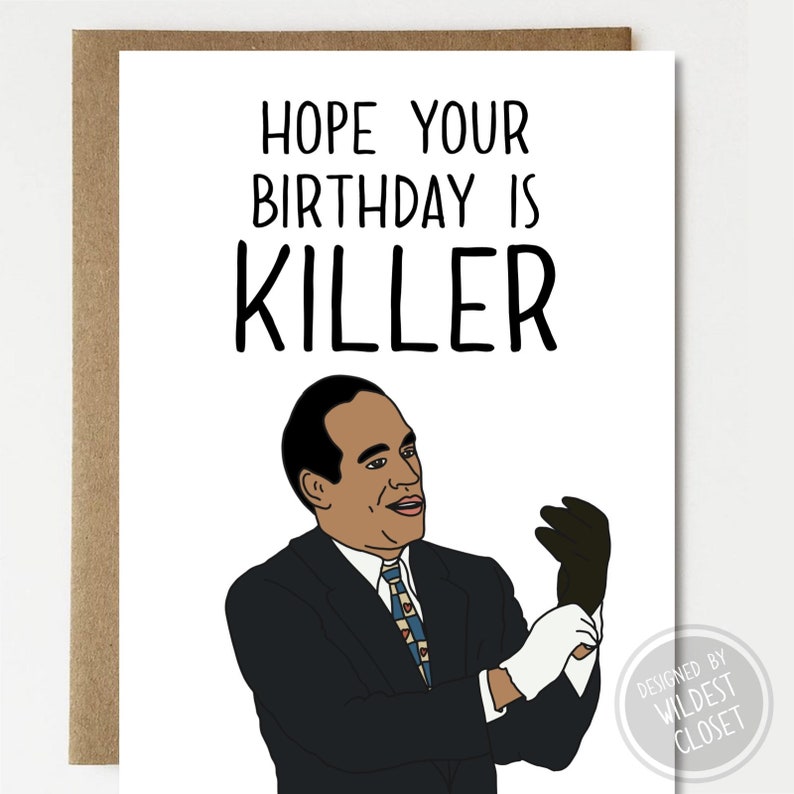 Purchase from Etsy for $5. 
---
Share this post
---
---
---
0 comment